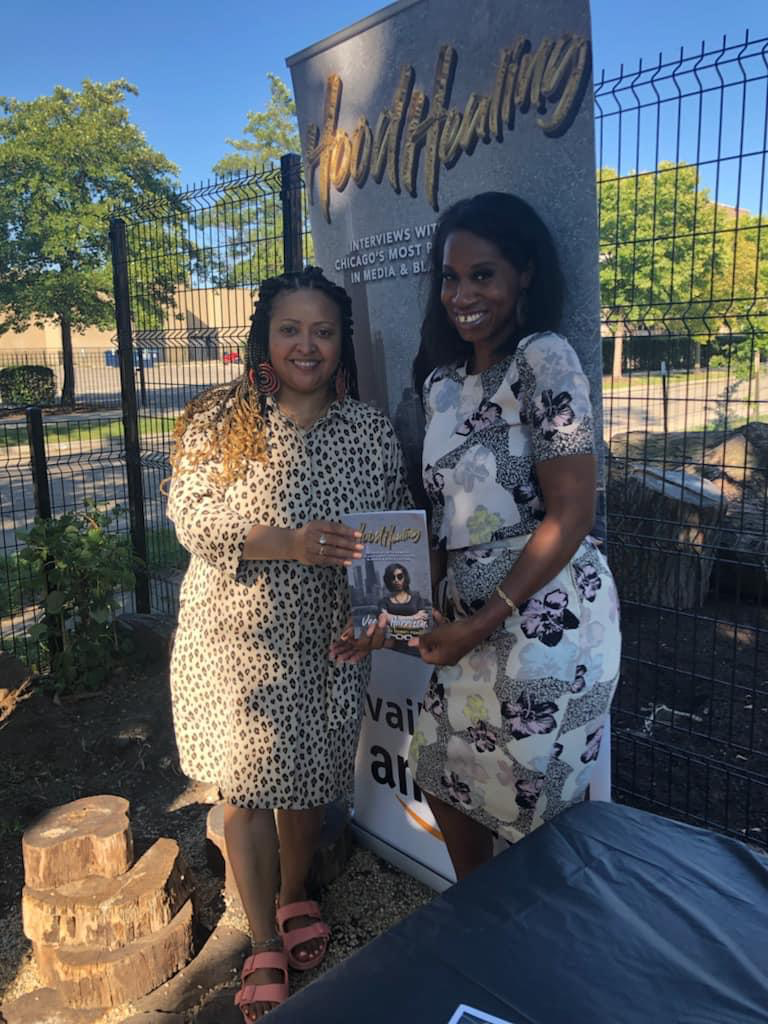 Every third Sunday of the month, the Front Porch Arts Center invites writers and residents to the Westside Writers Reading Series. The reading and open mic event "serves as a sanctuary for artists and community members to share their stories," said Austin writer and educator Keli Stewart.
Stewart is the founder of the Front Porch Arts Center, an organization established in 2019 to showcase West Siders history and culture through the arts. A graduate of Columbia College Chicago's fiction writing program, she said many West Side writers have stories to share that show the impact of books and the arts in the community.
"We want to continue to create safe places to tell our stories," she said at the end of last month's event. "We need more spaces, we have so many West Side artists."
The event brought together authors Anita Davis, Vee L. Harrison and Orion Meadows.
The Austin branch of the Chicago Public Library, the usual venue for the event, closed unexpectedly on the day of the event. Instead, Harambee Community Garden opened its doors to the three creatives who shared stories rooted in their experiences on the West Side.
Davis, a former elementary school writing and social studies teacher, read aloud from her women's fiction book "Untold."
Davis said she only discovered her passion as a writer when she realized how much she enjoyed creating writing samples for her students. She then completed her Masters of Fine Arts in Creative Writing at National University.
"You can't live in Chicago and not know someone who knows someone," Davis said. Based on this, she said she wrote passages from this book that related to her first book, "Underneath It All."
Davis is the author of 16 titles, published over the span of 10 years. She has also written poems even though she "doesn't pretend to be a poet", she says.
Meadows, born and raised in Chicago's South End, is a poet who uses spoken word and the creative arts as a medium for activism in his community. He is a member of the National Alliance for the Empowerment of Former Prisoners and the Prisoner's Ward Arts + Education Project.
"So when I was 18, I got involved in gang-related crimes, and I got out last year…" Meadows said. "The community is definitely impacted by the violence in so many different ways."
While in prison, Meadows heard of community leaders advocating for education and creative arts programs in prisons. He now works with the West Side-based Institute for Nonviolence Chicago to provide services to victims of crime or family members and to prevent youth involvement in violence using the philosophy of non- violence of Martin Luther King Jr.
He recited several poems that recounted his experiences in prison. One of them was inspired by a dream about Martin Luther King Jr., another inspired by his experience at the Pontiac Correctional Center.
In his article "Inmate Appreciation Day", he criticizes the criminal justice system based on his own experiences. Through this poem, he discovers that his father is also a writer.
"My mom after hearing it she was silent," Meadows said. "I was like, 'Why are you silent?'"
"And then basically, in short, she was saying that there are certain things that you just don't learn. There are things that are passed on to you.
Harrison, a Chicago journalist and author of the book "Hood Healing," read excerpts from his book. On the table behind sat the photo of his brother Darry Anthony Harrison Jr., who lost his life to gun violence in 2021.
"My one and only brother, he grew up in this neighborhood and he got killed, didn't he?" she says.
"So I wrote Hood Healing because it was one of the last things my brother and I talked about. And I wrote it because it was a need to talk about what we do with trauma as blacks.
Harrison, a graduate of Columbia College Chicago's journalism program, shared some memories of growing up in Austin and her thoughts on the need to speak out about the generational trauma experienced by black people in Chicago.
Her work as a journalist covering community news and black culture has further exposed her to the trauma caused by violence, food insecurity, disengagement, and police brutality, among many other inequalities, in black communities.
"The pain of losing our people day after day. The pain of knowing your family is making headlines and the cops still don't have answers. The grief of knowing that your ancestors were in a country that doesn't treat you well," she said. "It's traumatic."
"And so I learned from losing someone close to me and dear to me that to heal my hood, I had to heal mine."
To learn more about the Front Porch Arts Collective, click here.