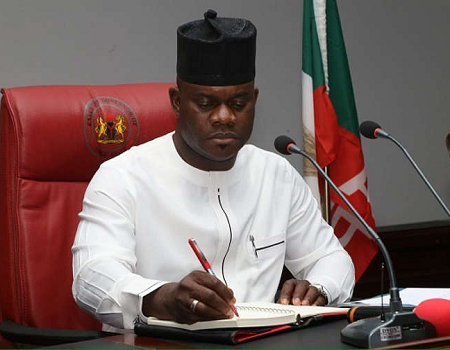 Kogi State Governor Yahaya Bello has pledged that the subsequent budget allocation for the education sector in the state, currently set at 20%, will not be less than 30% in 2022 to facilitate a more solid advance in the sector.
He also added that his government's focus would not only be on growing infrastructure in the sector, but prioritizing the well-being of teachers with the aim of giving public schools leverage over their counterparts. private sector.
The governor made this known during the grand finale of the quiz and inter-school debate competition of the Pharmacist Abdulkareem Asuku Youth Empowerment Foundation (PAAYEF) held in the greenhouse of the government house in Lokoja.
He added that the government will ensure that it is illegal for any student in the state to be out of school while his administration works to ensure that Kogi state emerges first in the next few notes. WAEC performance thanks to the deliberate investment of its administration in the sector.
Governor Bello alluded to the state making remarkable efforts to ensure a safe and secure Kogi state, as no children would be abducted by criminal elements under his supervision and only when the state was safe and secure that students could attend school.
He expressed concern that although the country's current education system is dysfunctional, Kogi State has integrated technical and specialized education into its system, such as the Korea Institute of Polytechnic of Confluence State and New University of Science and Technology, Osara.
Governor Bello used the media to challenge other appointees and well-meaning people of the state to invest in human capital development, especially in efforts that would add significant value and impact the younger generations.
In his remarks, the visionary of PAAYEF and chief of staff to the governor of Kogi State, Pharm. Abdulkareem Jamiu noted that PAAYEF was fully sponsored by the governor because it gave him the platform and encouragement for him and many others to engage in humanitarian endeavors.
He noted that the performances of various public schools in the spelling contest and the written essay indicated that the state's public schools have such a tendency to excel and already shows the huge investment of the governor-led administration. Bello.
The chief of staff expressed his continued commitment to contribute his quota to the life of young people and young people in society.
The winners of the writing contest, spelling contests and debate were awarded scholarships, academic articles and cash donations.
Ester Itopa from Harmony High School won the Spelling Bee competition while Tijani Sadiq from Standard Demonstration College, Musa Alhassan Abdullahi from Okenya Public High School, Sanni Abdulazeez from Ebira Community High School, Ogaminana , Aboh David Ojochegbe from St Peter's College, Idah and Seidu Adavuruku from Ebira Community High School, Ogaminana, respectively led the writing competition. In the debate competition, St Augustine High School in Kogi West emerged as the winner over Ebira Community High School Ogaminana from Kogi Central.
YOU MUST NOT MISS THESE TITLES NIGERIAN TRIBUNE
We haven't had a water supply for months ?? Abeokuta residents
Despite the huge investment by government and international organizations in the water sector, water scarcity has become an eternal nightmare for the people of Abeokuta, the capital of Ogun State. This report x-rays the lives and experiences of residents to get clean, safe, and affordable water amid the wave of COVID-19 cases in the state …
Selfies, video calls and Chinese documentaries: what you will encounter on the Lagos-Ibadan train
The Lagos-Ibadan Railway was recently inaugurated for a fully paid operation by the Nigerian Railway Corporation after about a year of free trial. Our journalist joined the Lagos return train from Ibadan and recounts his experience in this report …