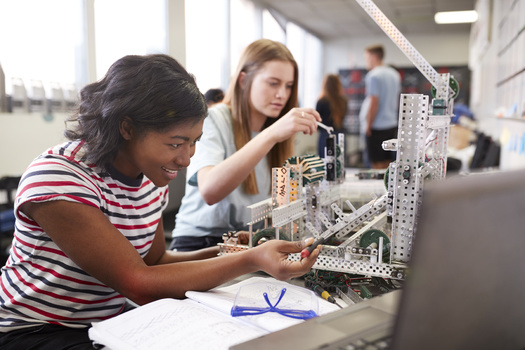 Bridgeport is one of six US cities selected for an 18-month project starting this month to create more education and career opportunities for young people.
the National League of Cities awarded Bridgeport a $150,000 grant to support projects promoting STEM education and careers, especially for young people who are not working or in school.
Marc Donald, executive director of the Regional Social Action Partnership for Young Adults (RYASAP), said the funds will be used for the Park City career path program. The goal is to help break down barriers to getting jobs in STEM fields.
"It's just trying to put them on a better path, where they graduate from high school and then go on to some sort of post-secondary opportunity," Donald explained. "Or dive straight into some kind of career path, especially in STEM careers or around advanced manufacturing."
The other participating cities are Houston; Sacramento, California; Madison, Wis.; St. Paul, Minnesota; and Lauderhill, Florida.
Through the same grant, United Way of Coastal Fairfield County will also support RYASAP's work.
Gwendolyn Brantley, Head of Centraide Greater Bridgeport STEM Learning Ecosystemsaid when presenting STEM opportunities to young people, it is about showing them that it is within their reach to find a job that interests them.
"We introduce our students to careers in the gaming industry through esports," Brantley noted. "We try to be really intentional, using tools that are exciting and will make our students want to look into those careers."
Brantley added that they have developed e-sports teams across the city, for kids in elementary school through their twenties. They are also working with the district to help students create profiles on the Tallo networking platform, where they can learn about STEM internships and scholarships, and connect with potential employers.
get more stories like this via email