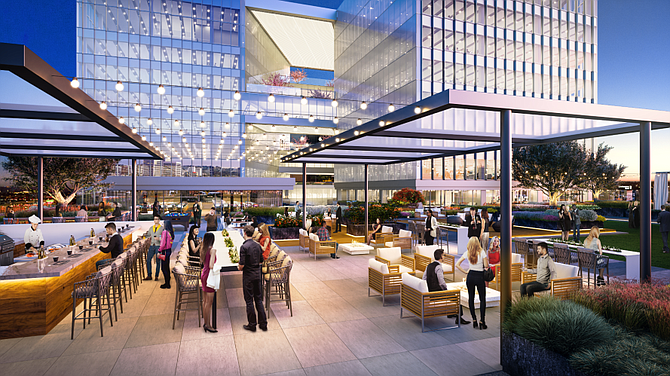 Hathaway Dinwiddie is proud to be associated with co-developers McCarthy Cook and Northwood Investors on the Lumen West LA project. Lumen West LA is a completely redesigned, first-class, amenities-packed workspace, with over 500,000 square feet of office and retail space, with 65,000 square feet of private outdoor amenity space, including a one acre amenity deck, creating a balanced interaction with outdoor workspace and social / entertainment areas.
Some highlights of the project include interior and exterior decks connecting the two towers, a grand staircase leading to the 3rd floor pleasure bridge and conference center, an open floor plate design, ample parking and much more.
On track for completion in 2022, Lumen will be the crown jewel of the Olympic Corridor. Once completed, the project will seek to obtain LEED Silver certification. Gensler is the architect, John A. Martin and Associates is the structural engineer.
Hathaway Dinwiddie at a glance
Hathaway Dinwiddie is one of California's most respected construction companies. For more than a century, he has helped major corporations and institutions across the country develop iconic buildings across California. With offices in San Francisco, Santa Clara and Los Angeles, the company has more than 400 salaried employees, more than a third of whom are LEED accredited professionals.
The company is a private company and senior management carries on a tradition of practical involvement in every project. Over the years he has created many landmarks that define the California skyline, types of projects including commercial offices, higher education institutions, biopharmaceuticals, LEED / sustainable, healthcare, technology, entertainment, finance and special purpose facilities. Hathaway Dinwiddie's leadership in the California construction industry is based on the belief that the professionalism and dedication of its employees, combined with the integrity of client relationships, will continue to be a cornerstone of its success.
This belief has spawned a style of project management that integrates customer focus, innovative thinking, teamwork and leadership to deliver better projects. This attitude is rewarded to the extent that the majority of his work is aimed at loyal customers. From pre-construction planning to project completion, Hathaway Dinwiddie makes client goals their own.
Quality control
Quality begins with the people of the company and the dedicated resources made available on a daily basis, from preconstruction to construction. Quality relies on the dedication of team members, who take the time to make sure every detail is looked at.
From the pre-construction phase, the company's experienced team performs constructability reviews and uses BIM tools to analyze all systems and details. This ensures that the final fit and finish meet or exceed the expectations of the architect and owner.
Hathaway Dinwiddie investigates material, detail, phasing and sequencing options to maximize overall value. To control and improve the finished product, it implements rigorous quality measures at the source. In short, the team strives to leave no detail uncontrolled to ensure the best possible results.
Durability
Hathaway Dinwiddie was ranked # 2 for green educational facilities and one of the "Top 5 Green Entrepreneurs Overall" by Engineering News Record. The firm understands that the environment is important, so it takes the time to research and recommend the most sustainable solutions for its clients' projects and the environments in which they reside.

This is why Hathaway Dinwiddie is often sought after by homeowners and architects for its expertise in sustainability. Over 35 percent of its staff are LEED accredited professionals and all project teams are familiar with the LEED certification system. This experience enables the company to provide its customers with the most advanced ideas in green building and sustainable building practices.
Learn more at hathawaydinwiddie.com.
Back to index.
For reprint and license requests for this article, CLICK HERE.