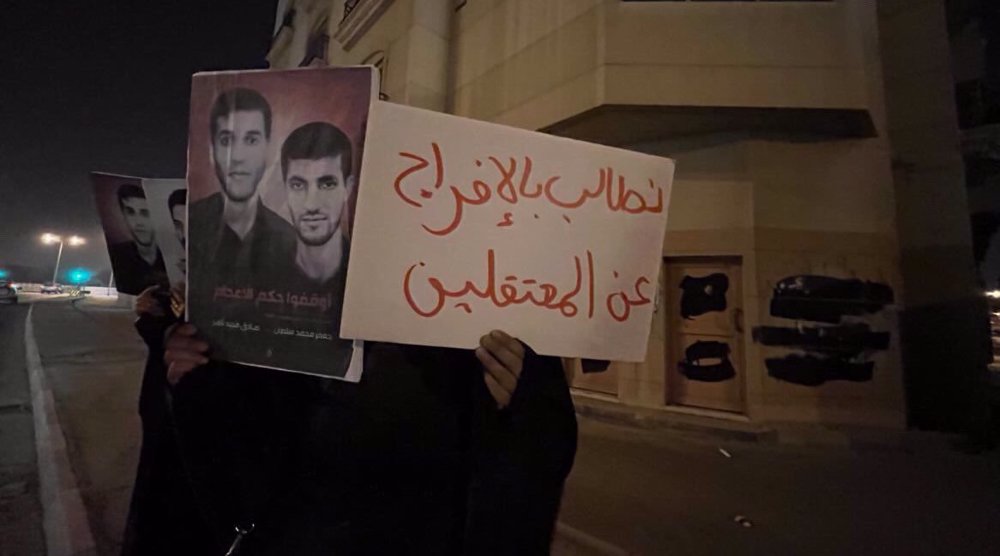 International human rights organizations have called on Saudi authorities to halt the impending execution of two Bahraini men accused of bogus terrorism-related crimes, as the kingdom continues to use the death penalty to reduce silence rights activists and political opponents.
The organizations urged officials not to ratify the death sentences against Jaafar Mohammad Sultan and Sadeq Majeed Thamer, to quash their sentences and to retry them in accordance with international fair trial standards.
Rights groups have argued that the two Bahraini Shia men were sentenced to death on bogus charges of terrorism and protest following a grossly unfair trial.
They pointed out that the Saudi justice system has once again shown a chilling disregard for human rights by upholding the death sentences of the two men, and that their execution will constitute an arbitrary deprivation of the right to life.
Human rights organizations have also urged the Saudi authorities to order a prompt, impartial and independent investigation into the defendants' allegations of torture and ill-treatment.
Last week, Saudi Arabia's Supreme Court upheld the death sentences of Thamer and Sultan after finding them guilty of "smuggling explosives" into the kingdom and involvement in terrorist activities.
Bahrain's February 14 Revolution Youth Coalition has held the Saudi regime fully responsible for the safety of young people, calling on UN Secretary-General Antonio Guterres to take office and urgently intervene to stop the crime .
The Bahraini opposition protest movement has also called on the international community to stand up against King Salman and Crown Prince Mohammed bin Salman of Saudi Arabia and prevent the execution of death sentences.
The Youth Coalition for the February 14 Revolution has demanded swift action to save the lives of the two young Bahraini nationals before it is too late, viewing the ruling Al Khalifah regime in Bahrain as a partner in any criminal action against the Arab nation.
Sultan and Thamer were arrested in May 2015 along the King Fahd Causeway, which connects Saudi Arabia and Bahrain.
They were held incommunicado for months after their arrest. Young Bahrainis have been subjected to systematic and deadly torture in an effort to extract false confessions.
Since bin Salman became Saudi Arabia's de facto leader in 2017, the kingdom has arrested dozens of activists, bloggers, intellectuals and others perceived to be political opponents, showing near zero tolerance for the dissent, even in the face of international condemnation of the repression.
Muslim scholars have been executed and women's rights activists put behind bars and tortured as freedom of expression, association and belief continue to be violated.
In recent years, Riyadh has also redefined its counterterrorism laws to target activism.