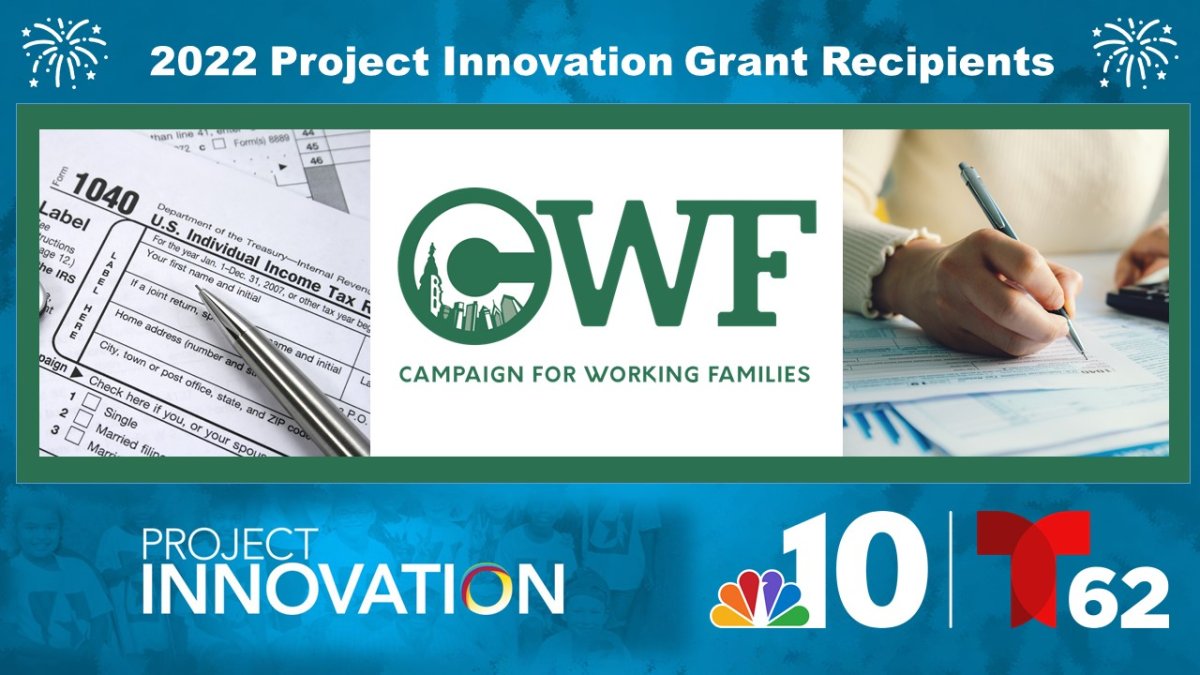 Campaign for Working Families (CWF) is a recipient of a 2022 Project Innovation grant of $50,000 from NBC10, Telemundo62 and Comcast NBCUniversal Foundation. This funding will go towards their program for advancing equity through youth empowerment and community engagement.
CWF was established in 2003 with the goal of helping working families in the Greater Philadelphia area climb the economic ladder. For nearly two decades, they have been committed to helping families and individuals achieve economic empowerment by providing free tax preparation, resource building, and asset development. This support and guidance enables low-income households to plan for a financially secure future. Last year, they made 28,000 federal declarations and this year, they are close to 24,000 declarations. They receive a huge volume of tax returns but have a small staff, so they had about 600-700 volunteers who go through IRS-certified training. Their goal is to get $50 million in refunds for the community. They partner with other organizations like Philabundance and the IRS Tax Advocacy Division to make sure people can get the help they need and are aware of all the benefits they have the right. Some of these benefits include SNAP, LIHEAP, credit counseling, property tax refunds, and services for seniors.
Their services to understand:
Preparing taxes and building up free assets
Mobile tax operation
Assisted self-preparation of taxes
Financial services and savings products
Advocacy and organization
Community workshops.
Click on here to schedule a free appointment today.
Their program to advance equity through youth empowerment and community engagement began in partnership with Martin Luther King High School. They worked with these students for four consecutive years, training them to manage a tax site outside the school. Currently they work with Lincoln High School and continue to train students to do taxes. The training period is from October to January and all students become IRS certified. Students also have all their work checked for quality by an experienced member of staff. Students leave with customer service skills, digital technology skills, knowledge of tax law, and are able to bring this knowledge to their family and community, as well as to their future careers. Last year, 37 students participated and hope to double that amount this year.
During the pandemic, CWF had to prevent the broadcast of programs inside schools; As a result, they moved to a virtual platform where community members could drop off their documents and be contacted once feedback was made, and also offered the option to upload all of their documents directly to the virtual platform themselves.
With funding from this Innovation Project Grant, CWF will once again be able to operate these taxation sites inside high schools, and also expand to other high schools, kick-starting this program and strengthening its impact in the community. This grant will also allow them to allocate scholarships to students from now on, which will give them more motivation to get involved.