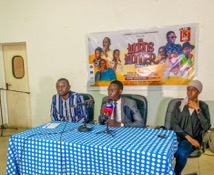 Champoetry in partnership with the Tekki-Fii recently hosted electrifying, satisfying and uplifting summer poetry events. The Words of Wonder featured various iconic poets such as Omar 'Champion' Cham, Jainaba Touray, Cherno Gaye and Bintou Sanneh from July 16 to August 13, 2022.
The project was implemented in the halls of Kanifing, Banjul, Prochial and Gambia College and in the auditorium of the University of The Gambia (UTG).
Omar 'Champion' Cham, Chief Executive Officer (CEO) of Champoetry, said young people have great potential and therefore the notion of traveling for greener pastures is just a myth.
"We can all get here and therefore encourage every young poet to take the mic and speak their mind, because that's where it all started for everyone. Live your dream and use your voice to make a difference. This is a collective commitment to empower poetry in The Gambia and beyond," he said.
Isatou Jallow, a representative of the Youth Empowerment Project (YEP) under the Tekki-Fii programme, noted that young people have great potential and therefore should not waste their lives.
She added that the Tekki-Fii program has proven that young people can all succeed here through their various interventions.
Alagie Jarju, Executive Director of the National Youth Council said: "If you had asked me 10 years ago that young people would pay for transport to travel miles just to listen to poetry, I would have denied it. It's a shift in the art industry and poetry is definitely making waves. Hear the message, spread the message, inspire your fellow youth and make a change.
Performances under the slogan "We can all do it here" featured plays, lyrics, music and more.
The Mighty Stars performed on illegal migration, addressing the challenges and opportunities available to fulfill the Tekki-Fii slogan – "we can all do it".
The summer poetry event targeted youth, women, children, people with disabilities and other relevant stakeholders.
The event created a space for intergenerational conversations and fostered interactions between different age groups.
The aim was to enable poets in The Gambia to spark conversations about irregular migration, youth unemployment and to amplify information about the opportunities available by using influential poets to get the message across.