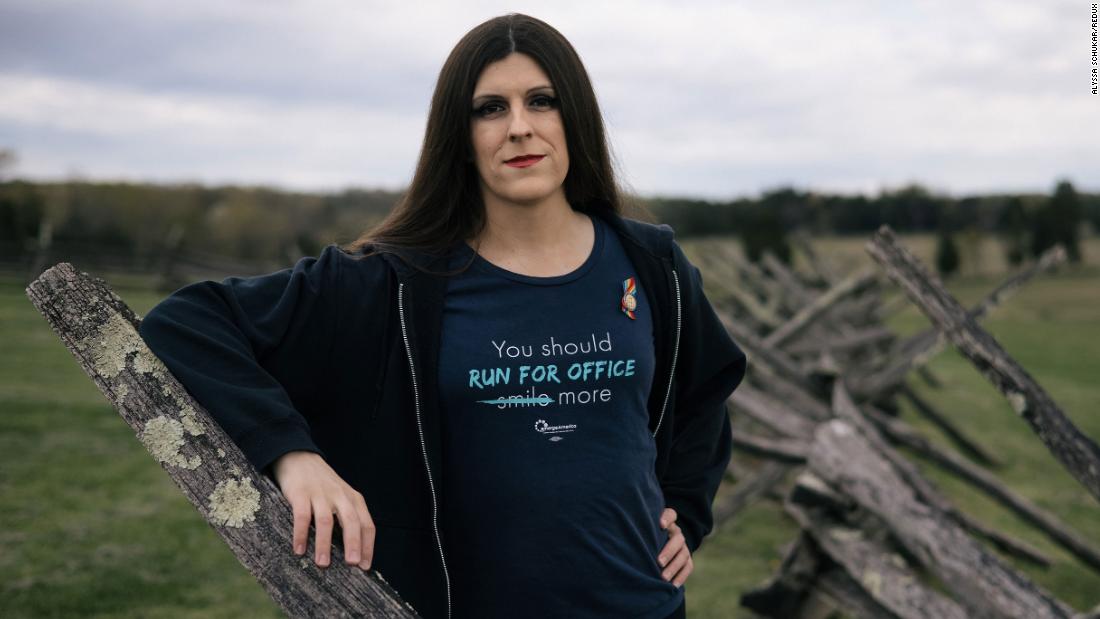 She will still be the first, but four years later, she is no longer the only person in the United States who identifies as transgender to be elected and serve on a state legislative body. It's not a well-populated trail, but a trail that she is proud to have mapped out.
"They were ready to look at me and they said, 'Yeah, we know she's trans and she'll do a great job,'" Roem said of her constituents in an interview with CNN earlier this month. .
"I never say 'trans but', always 'trans and'. Because it's like, no, I don't hide who I am. People know exactly who I am here."
And during this Pride Month, Roem has a message to the younger LGBTQ community who say they don't like politics: "When you're an LGBTQ person, you have to care."
Roem represents Virginia's 13th District in the House of Delegates, an area near the seat of the Civil War's first major battle. Roem jokes that there are even more things named after Confederate General Stonewall Jackson in his county than there are Starbucks locations.
She says her success hinges on a deep knowledge of local issues since she grew up in the Manassas region she now represents.
"When I was asked on election night, 'Hey, what does that mean? "It was like, well, that meant that a trans woman was finally going to work on the repair of Route 28."
Although Roem is a state legislator, her historic moment means her platform is national. She is well aware that her visibility and representation are changing the national conversation.
"What we have learned from fighting for marriage equality," she explained, is that "if you know a gay person in your life and you only see that person, just being a gay person. , you (are) much less likely to want to restrict their civil rights. "
Given that 0.6% of Americans identify as transgender, according to a Gallup survey on LGBT identification released earlier this year, she acknowledges that for some people, she may be the only trans person they know.
"If you know a trans person, you are much more likely to support our civil rights. But since there are fewer of us, the conversation is more difficult."
His path to politics
Prior to her candidacy in 2017, Roem spent nine years as a journalist in her community, which she said was her main qualification for an elected post.
"Who will be more qualified to represent their community than a long-time resident of that community who has spent their career covering community public policy issues? "
She first got involved in politics in 2003, when then-President George W. Bush wanted to limit marriage to heterosexuals. She couldn't ignore what was going on.
"I would read the newspaper, I would read USA Today, New York Times," she said. "I would read them every day, then go online and read about politics, two hours a day, seven days a week, every day for years."
Although she is yet to be out, Roem said she is looking to understand what legal mechanisms exist to protect people like her – and more importantly – how to fight for them.
Across the country today, many states allow a legal strategy known as the gay and trans 'panic' defense, which may allow those accused of violent crimes against LGBTQ victims to claim that it is the same. gender identity or sexual orientation of the victim that motivated them. to violence.
Earlier this year, at the behest of a teenage girl who told her it was scary growing up knowing someone could hurt them, Roem introduced a bill banning gay panic defense. and trans men for murder or manslaughter in Virginia.
"I realized… this person was living with the same fear in 2020 that I had as a freshman in high school in 1998."
It was passed by the legislature in February, making Virginia the first southern state and the 12th in the country to ban it as a defense of murder or manslaughter.
"We're just saying that the mere presence and existence of a person as an LGBTQ person is not a passionate defense that denies maliciousness in an attack. Simply put, you can't just assault and kill someone. just because you feel like that, "Roem said.
April Fool
Roem was 14 when Matthew Shepard was brutally murdered in 1998 in Wyoming for being gay.
"I knew very well who I was at the time, and I was too scared to tell anyone. And then when you see a young gay man from Wyoming getting whipped with a pistol, strapped to a fence post and left to die in the freezing cold.… When you see this unfold, it's the late 90s and you're down South and off you go, what's happening in Wyoming is not far from what could be happening in Virginia, "Roem recalls.
Fearing for her own safety and lack of legal protection, and worried about the reaction of her family and friends, she waited another 14 years before deciding to make the transition.
"I was at a point when I was 28 where I didn't want to go into my 30s living a lie. I had been pretending to be someone else my whole life at this point. I knew who I was. 'been since I was 10 years old. "
She was afraid to disappoint people, especially her mother, she said, and had a hard time deciding how she wanted to tell people. She figured Facebook would be a good place to start and eventually changed her gender and name on the platform on April Fool's Day.
"I was like, okay, if it goes wrong, 'April Fools!' If it goes well I'll let it roll, "she explained." I thought it was the safest day of the year for me to do it because if I did it like April 2 , it would just be like, 'Uh, I have questions. What are you trying to tell us? '"
Despite her concerns, she said she felt supported by friends who told her they liked her new look.
"And go figure, it was like the day in my adult life that I was real. April Fool's Day was the day I was like, no. That's actually who I am. always let it roll since. "
As a teenager, Roem said she didn't have any LGBTQ role models herself – she didn't even know any. She has seen trans people portrayed in the media, but only in limited and discouraging ways.
"The trans portrayal was the one that was ridiculed about Jerry Springer," she recalls. "Or 'When we get back to Maury, we'll have a shocking announcement about this person really dating a man' or, you know, like stupid bullshit like that."
She now knows that she was not alone.
"Now I know at least five or six people that I went to school with and dated, including same-sex couples who are now married. And that's just the eerily heartwarming thing about it, it's like, 'Oh, it wasn't just me choking,' Roem said.
"Politics cares about you"
This year has already become the worst year for anti-LGBTQ legislation in recent history, according to the Human Rights Campaign. As of May, more than 250 anti-LGBTQ bills had been introduced at the state level, of which 17 had been enacted.
"When you are an LGBTQ person in the United States, whether you care about politics or not, politics does care about you," Roem said.
Her advocacy is personal and she hopes her activism will inspire the next generation to take action as well.
"If you are not involved, if you are not your best lawyer, you are asking someone else to fill this void. Some of the people who will try to fill this void will be political charlatans who have no no interest in preserving your best interest, "Roem said.
"You cannot rely on others to be your best advocate. You have to rise up."