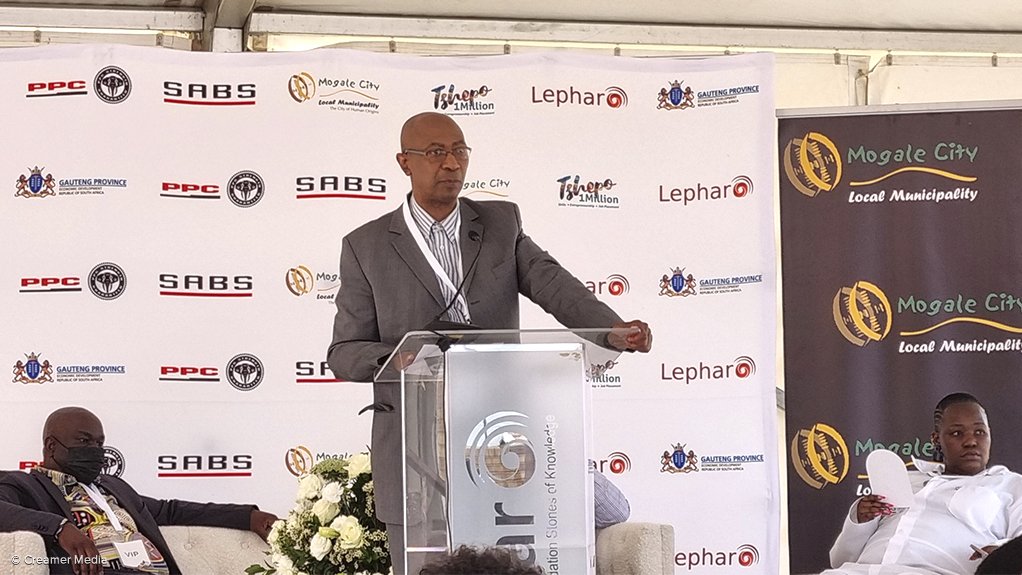 The Gauteng Economic Development Department (GDED), alongside development partners Mogale City and Lepharo, unveiled the Mogale City Incubation Hub in the heart of Munsieville Township, Krugersdorp on October 21.
The hub focuses on the incubation of small, medium and microenterprises (SMMEs) active in brick and block manufacturing and services, which especially serve the construction and mining value chains.
The Rand 13 million hub helps young people access jobs, skills and training, which can dramatically increase the size of the local economy.
With R60 billion of infrastructure projects underway, the West Rand region is poised to offer plenty of supplier opportunities.
During the hub launch event, the head of GDED Blake Lefatola said his entity aims to establish a West Rand Special Economic Zone (WRSEZ), which would emulate the model and success achieved so far by the Tshwane Automotive Special Economic Zone.
While discussions around a WRSEZ are still in their infancy, GDED aims to focus development on agriculture and agribusiness, as well as renewable energy.
Lefatola mentioned that the Mogale City Incubation Hub aligned with the core objectives of GDED's Growing Gauteng Together 2030 (GGT2030) initiative, which aimed to invest in the township's economy to create future industrialists and empower young people from Province.
The unemployment rate in Gauteng stands at 36%, while the province's youth unemployment rate averages 44%. Of the total number of unemployed, women represent 60%.
Lefatola said GGT2030 prioritizes its efforts in high growth sectors including construction, energy, agriculture, information and communication technology, tourism, logistics and transport. , manufacturing and financial services.
Meanwhile, the Mogale City Incubation Hub is the culmination of the efforts of Lepharo Manufacturing Incubation Center, PPC Cement Manufacturer, Mogale City Local Municipality, South African Bureau of Standards, GGT2030, Harambee Youth Empowerment Accelerator and Tshepo 1Million.
Head of PPC Indoor Business Unit Bheko Mthembu said in a press release that the company was happy, as a technical partner, to participate in the project, which had equipped start-ups and young people with the skills required to succeed in a complex industry and economy.
So far, 15 PMMEs have been created within the hub. PMMEs had to meet specifications of being 100% black, female or youth owned.
Lefatola noted that one of the SMMEs was a steel producer, which he hoped to grow to compete with primary steel producers in the region in the future.
"Small businesses are the future of this economy because if your brick making company can hire one or ten young people to work for you, it will undoubtedly alleviate unemployment and build a thriving economy," said Harambee COO. Mosuoe Sekonyela.
president of Lepharo Mongezi Veti agreed, noting that the world's most successful economies use SMMEs as the foundation and engines of economic growth.