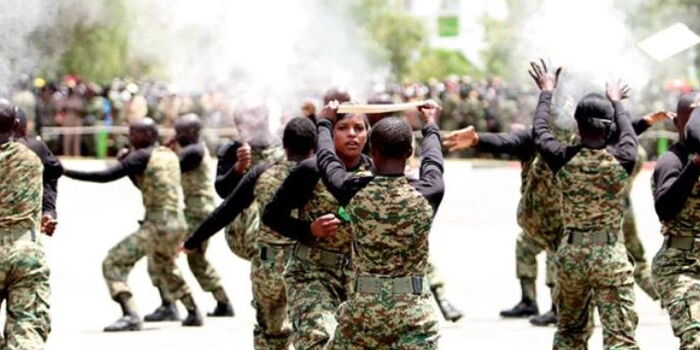 The National Youth Service (NYS) training is one of the most intense training courses in the country. Recruits must go through an arduous process before successfully completing the program.
For young recruits wishing to enter the service, they must follow two phases of the course; unconditional paramilitary training and professional courses in the field chosen by a trainee.
While undertaking paramilitary training, recruits undergo rigorous drills such as running long distances, slowly crawling long distances as well as carrying your colleague (in the carrying position of a firefighter) during the run.
Part of the obstacle course training involves the dreaded log races. This mainly involves different variations of the log exercises, such as carrying colleagues while holding a log, doing sit-ups with the log in their hands. Additionally, another version of log racing involves recruits running along an off-road area at full speed with the logs placed on their shoulders.
In the videos seen by Kenyans.co.ke, the trainees cross a cloudy ground while uttering a rallying cry in order to calm down.
Speaking to this writer, former NYS Junior instructor and trainer Julius Kaitha explained the reason for this arduous process.
"For the transport of the firefighter, we imagine a scenario where we are in enemy territory or have been attacked and your colleague is wounded. The exercise therefore reflects the situation where you have to save the life of your colleague while carrying your firearm to ensure your safety. . "
He noted that the diary used during training regimes represents the exact weight of the firearm that is carried on missions.
"You have to bear the weight during training to adapt to the situation. The process is easy, it depends on the determination and the ability of each one," he explained.
He also painted an actual picture of a typical day for an NYS intern while in camp.
"A typical day varies by grade, but for a beginner you will sleep around 11am and wake up around 2am. This is also part of the training."
"The moment you wake up you start a physical training where all the recruits have to cover a particular distance," he detailed.
"Once you're done, we go to the daily cleaning where we clean our sleeping area. At around 4am we did the parade rehearsals."
The first phase also involves stealth training where recruits are trained in how to crawl into enemy territory while being covered in vegetation (camouflage).
The next part of the program includes self-defense training which involves hand-to-hand combat training in muddy areas. The second and final part of the NYS course consists of attending vocational training institutes in the field chosen by an intern.
Interns take courses in fashion and design, engineering, catering, business management, secretarial work, factory operation, driving, construction, among others.
Professional training begins once a recruit has completed basic training and the duration depends on the type of course chosen.
President Uhuru Kenyatta speaking on Saturday April 24, 2021.
PSCU
steal