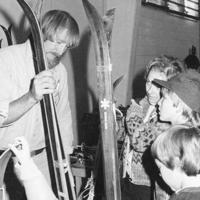 It was the snow on the high peaks that first made Roaring Fork Valley residents think of ski season. Then it will be Aspen's two major ski exchanges that will get the juices flowing.
The Aspen Valley Ski and Snowboard Club will hold its Sports Swap on Market Street in downtown Willits from 10 a.m. to 2 p.m. Sunday.
A second event, the Aspen Ski Swap, will take place at Aspen Middle School from 9 a.m. to 1 p.m. on Saturday, October 29.
This weekend's Ski Club event features equipment from multiple sports. It was expanded from skiing and horseback riding years ago.
"What started as a small 'ski swap' club has grown into a community-wide sports swap, offering all kinds of outdoor gear, from fishing gear to bikes, climbing gear to skateboards, and of course ski and snowboard equipment," said the ski club's promotional material. It will include equipment, clothing and accessories.
The exchange includes new and used equipment from sellers as well as individuals. Suppliers include CP Sports North America, Ravens, Hamilton Sports, Incline Ski Shop, Performance Ski, Revel Bikes, MountainFLOW Eco-Wax, Sidewinder Sports, Slot, Snowmass Sports, Summit Canyon Mountaineering, Surefoot, Strafe and Vintage Ski World.
Each vendor donates 10% of their profits to AVSC after the event.
"This event has not been a huge source of revenue for the club, but covers our costs of hosting the event and serves as a winter kickoff celebration for the AVSC community and the Roaring Fork Valley," Xanthe Demas, the club's director of marketing and communications, said in an email.
AVSC staff members will be on hand to share program information, offer advice, and provide AVSW swag.
The Oct. 29 Aspen Ski Swap will benefit the school district's outdoor education program. Individuals and entities can drop off new and used equipment, clothing, and accessories at Aspen Middle School from 4 p.m. to 6 p.m. Friday, October 28. They can collect money and collect unsold items from 2:15 p.m. to 4 p.m. on Saturdays. October 29.
"Pick up merchandise tickets before dropping them off at Aspen Public Schools, Aspen Community School, and Alpine Bank Aspen, Snowmass, Basalt, and Willits," the event's Facebook page said.
Both events have a long history in Aspen. This will be the 67th annual Aspen Ski Swap, which was started by Trudi Barr and Pam Beck in 1955. The original idea was that families could swap gear their children had outgrown and pick up gear from other families that suited them.
Information in the archives of the Aspen Historical Society indicates that the AVSC exchange began in 1973 but did not occur on a continuous basis. It was dissolved for a period and rejuvenated.
Tom Moore, who was involved with the ski club in multiple roles from the 1960s and was chairman of the board for two years, recalled that in the 1970s there were often more buyers of equipment than sellers.
"Nobody changed their gear a lot," Moore said.
As the region's population grew, it became easier to trade, he added.