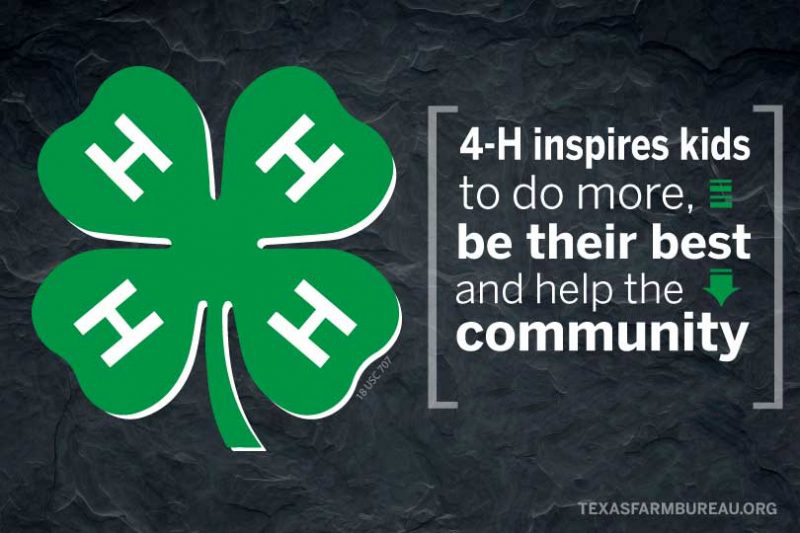 By Jennifer Whitlock
Field editor
Each year, millions of youth, parents, volunteers and alumni celebrate National 4-H Week to showcase young people's contributions to their community by getting involved in 4-H.
This year's theme, Find your spark, highlights how 4-H gives young people the opportunity to discover their passion through hands-on learning experiences.
"We are a grassroots youth development program. Thanks to these opportunities presented to our 4-H youth, they become good people. We want them to learn through their projects, learn to care about the people around them, to care about their community, and to give back to the people around them, "said Callie Cline, Marketing and Communications Specialist in Texas. 4-H. "We have 43 different projects our young people in Texas can choose from. It's everything from showing cattle, to photography, to public speaking, to sewing. We think we have an opportunity for all young people in Texas and something that any youngster can find their spark and kind of spark that interest. "
Young people like Texas 4-H President Kollier Miller, a senior from Panhandle High School, have found their spark and have excelled through their involvement in 4-H.
As the son of agronomy professors, Miller had many opportunities to experience farming and show off cattle. But 4-H offers him other outlets and experiences such as public speaking, he noted.
"I show lambs, goats, and pigs, but I love public speaking," Miller said. "Some people might not like to talk a lot, but for me, it just gives me the opportunity to do something I'm good at. I can talk to people I don't know and share something that I'm really passionate about and help them learn more about farming.
4-H also offers opportunities beyond high school. He said that once 4-H alumni move into college and the real world, the contacts and experiences that 4-H youth have gained can turn into careers and a bright future.
"Starting small with something like our dietary challenges and culinary options can grow into something as big as one day being a chef in a restaurant," he said.
Throughout the week, Texas 4-H engages in National 4-H Week by promoting 4-H engagement with Head, Heart, Hands and Health days. Each day is dedicated to starting an online conversation about the meanings of these words and how students can apply these ideas in everyday life, as well as how 4-H promotes learning, healthy living, community service and more.
Cline noted that the weeklong celebration will culminate on Friday with One day 4-H, a statewide day of community service. Members, parents and volunteers come together locally to help their communities through service projects.
The event was created in 2009 to allow 4-H youth to thank their communities, counties and state for the support they provide.
And this year, Texas 4-H will also be launching a campaign called 4-H4More, which encourages every 4-H member to recruit four new members.
"We hope to create 4-H opportunities for more children by inviting four more children into the program," said Cline. "We want to celebrate our young people who are doing amazing things across the state. We have the best kids in Texas in our 4-H program, and we want to celebrate everything they do this week.
Click here for more information on Texas 4-H, or visit their Facebook page here for more information on National 4-H Week.