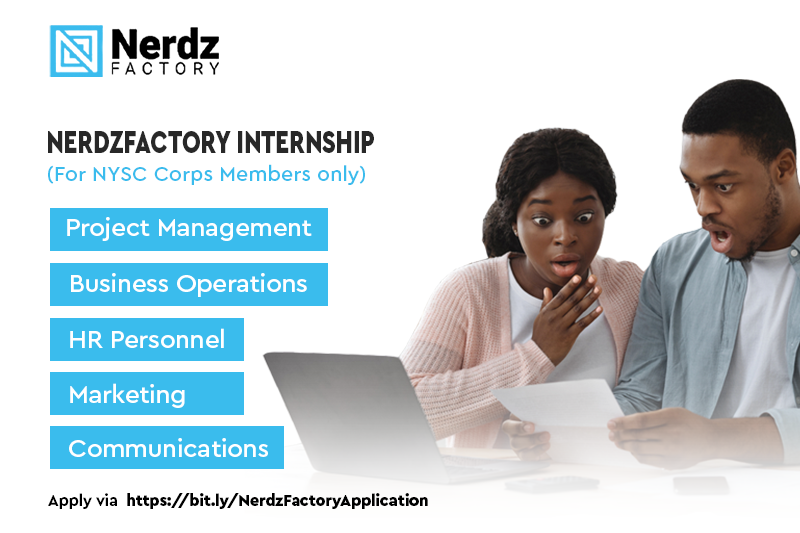 Deadline: not specified
Applications are open for the NerdzFactory NYSC Internship Program 2022. The internship program seeks to identify some of Nigeria's brightest young minds and develop them into leaders in technology, human capital and social space.
Interns will work with the organization as selected PPAs while taking on interesting projects and learning more about the world of work. Outstanding NerdzFactory interns have the opportunity to be retained after their year of service.
Internship areas
Human ressources: Will have the opportunity to manage people, shape the culture of the organization, manage performance and manage talent for the organization. From drafting employment contracts to reviewing company policy to conducting public meetings. You will have the opportunity to develop the human operations of the company.
Marketing & Business Development: Will have the opportunity to increase the company's market share and revenue. From writing proposals, to talking with potential clients, to reaching out to potential customers and partners, you will have the opportunity to contribute to a growth
Technology and Business Operations: Will have the opportunity to leverage technology to drive business growth as well as drive day-to-day business operations.
Project management: Will have the opportunity to manage some of the most exciting human capital development projects in the country. From designing project plans to meeting with stakeholders to designing project reports, you will have the opportunity to own and complete projects.
Advantages
Competitive allocation
Learning and development opportunities
Health insurance
Movie tickets
Eligibility
Open to Nigerians between the ages of 18 and 30;
Be a recent member of the National Youth Service Corps (NYSC);
To be posted or redeployed to Lagos;
Be looking for a Primary Duty Station;
Interested in technology;
Own a laptop;
Have previous internship experience (at least 1 month);
Monthly NYSC clearance.
Application
For more information, visit NerdzFactory.