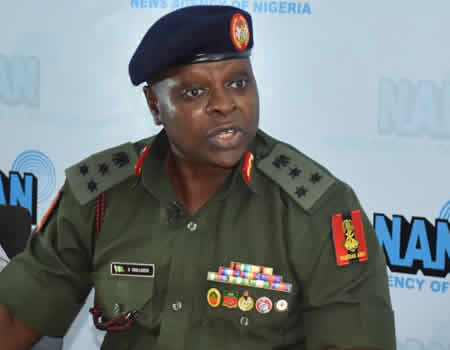 National Youth Service Corps (NYSC) Director General Maj. Gen. Shuabu Ibrahim commended leaders and members of the House of Representatives for their efforts and support under the trust fund bill NYSC special.
The DG who spoke at the swearing-in ceremony for the 2022 Orientation Course Batch A, Stream II at the NYSC Permanent Orientation Camp, Ise Orun/Emure-Ekiti, also hailed the support from stakeholders at the public hearing held recently.
A total of 1,793 corps members were deployed to Ekiti State Orientation Camp for the State and Lagos.
Represented by Ekiti State Coordinator, Ms. Mary Chikezie, he explained that the bill, when finally passed, would help transform the agenda to address the infrastructure deficit.
"I consider it appropriate to take this opportunity to thank the House of Representatives for the progress made thus far in the legislative processes on the bill to establish the NYSC Trust Fund," he said.
"I would also like to thank Nigerians for their continued support for the proposed trust fund, particularly as demonstrated overwhelmingly during the public hearing conducted by the House Committee on Youth on the matter.
"I wish once again to appeal to the competent authorities to provide the necessary means for the updating of the Fund. This will certainly improve the smooth functioning of the Scheme, in particular by meeting the infrastructure challenge. skills development and entrepreneurship aimed at empowering Corps members to be self-employed and create wealth.
He advised members of the corps to abide by the law and remained committed to the program, saying all efforts should be focused on promoting unity and peace in the country.
Ibrahim argued that there is a need for corps members to adopt entrepreneurial skills to improve their livelihoods, adding that white-collar jobs are no longer available in society.
"At this point, I would like to remind you that white collar jobs are not readily available. Therefore, I encourage you to take advantage of the self-employment opportunities offered by our Skills Acquisition and Entrepreneurship Development Program (SAED).You must choose from all skill areas and make yourself available for training, which starts from orientation camp.From our side, management will continue to work with relevant stakeholders for the success of the program ", did he declare.