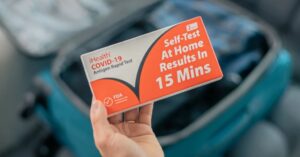 OLD LYME – On Thursday, January 6, the city of Old Lyme received from the state an additional but limited supply of COVID-19 test kits and N95 masks.
Four hundred (400) test kits and N95 masks are available for distribution, and these test kits are again priority for residents "Who currently must make sound quarantine or isolation decisions because they are showing symptoms of COVID-19 or have been in close contact with someone diagnosed with COVID-19. "
A drive-through pickup is scheduled for Saturday, Jan. 8 from 10 a.m. to 12 p.m. or while supplies last in the Lyme-Old Lyme High School driveway behind the Lymes Youth Services office for residents of 'Old Lyme, which meet these criteria.
Enter through the central school alley entrance. Residents must present an identity document.
The quantity of test kits and masks distributed will be one test kit and four N95 masks per household.
At this point, the state is expected to receive additional shipments. When the town of Old Lyme receives additional deliveries, future drive-thru events will be scheduled and announced.
To stay in touch with when additional test kits and masks will be available for distribution, just send a text message. OLCOVID19 at 888777 on your phone. The most recent information on test kit and mask distribution events will be shared there as well as on the Town of Old Lyme website, town social media platforms and with our media partners.
Editor's Note: This article is based on a press release issued Jan.6 by Old Lyme Emergency Services Director David Roberge.