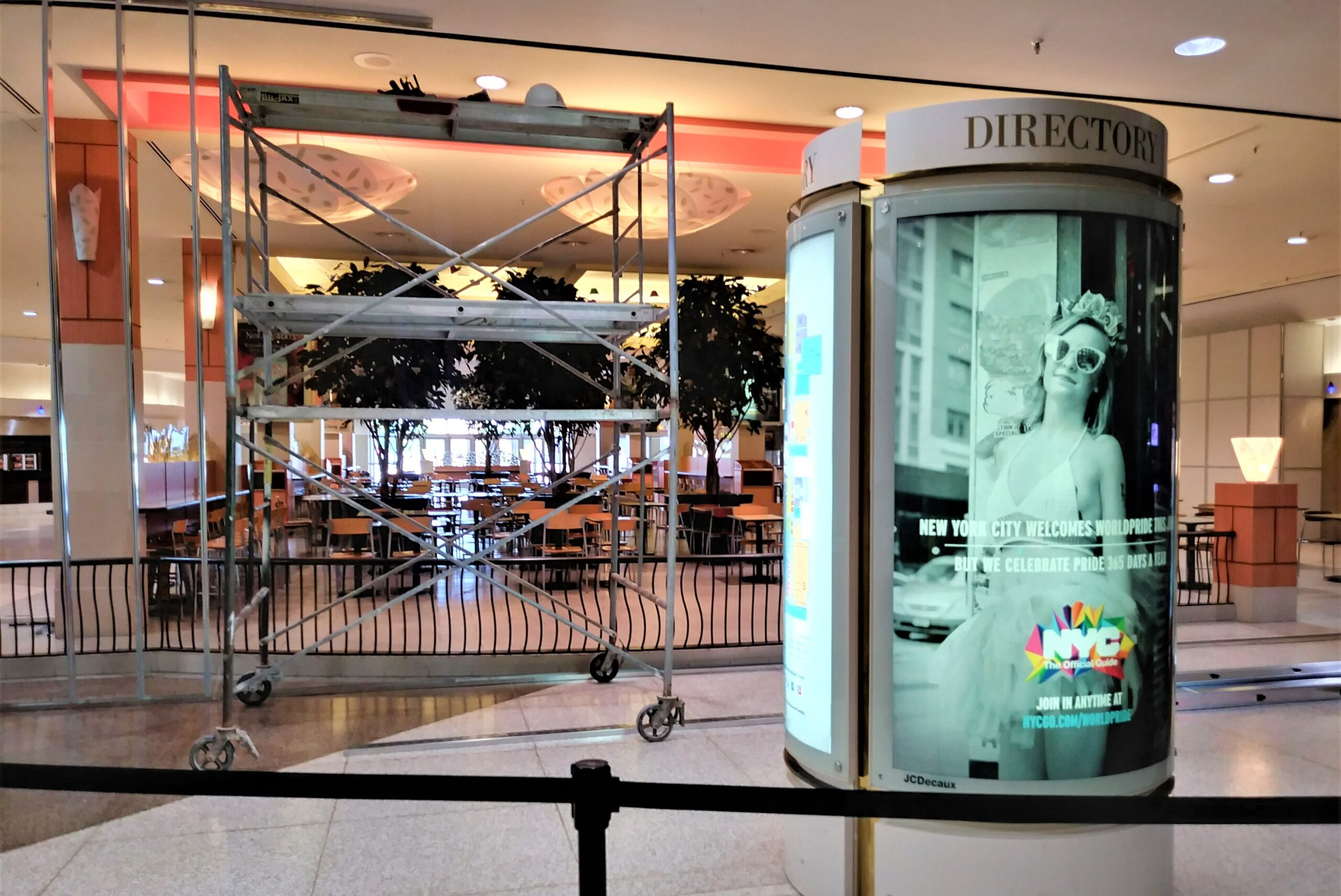 As the first residential tenants move into Regency's new apartment section, owners of the ever-evolving West End shopping center are turning their attention to the future of the nearby food court.
Regency owners Rebkee Co. and Thalhimer Realty Partners have cordoned off the mall's food court in preparation for a renovation project that will replace the space with a new food court and outdoor plaza.
The existing food court would be split about 50-50 between the outdoor plaza and the food court, said Steve Bonniville, president of mall manager Broad Sky Management. The project would also include a new entrance and serve to better connect the mall to the apartments, which are just outside the food court.
"We're constantly redeveloping things here and this is the next phase of that with our apartments coming fully online," Bonniville said. "We needed a better look when marrying the mall to the apartments."
The plan calls for a third-party operator to run the new food hall on behalf of the mall, but Bonniville said an operator has not yet been selected.
Bonniville said the exact number of vendors who would be at the food hall is still being worked out. He said the future operator would determine the types of businesses that would be there.
Fultz & Singh Architects designs the space.
The last of the food court's former tenants moved out in late April. It remained to be determined how many food operators, if any, would return to be part of the food hall, Bonniville said Monday.
There is no timetable on when the project will be completed and the final cost of the project has not yet been determined, Bonniville said.
Residents of the mall's 320-unit apartment complex – called Rise at Regency – began moving into their apartments in mid-April.
The mall's interior access to the food court was cordoned off and the exterior entrance to the food court was fenced off on Monday.
The food court project is the latest piece of the ongoing effort to reinvent Regency as a mixed-use development. The mall has attracted new tenants like Surge Adventure Park and NOVA from Virginia Aquatics to fill the spaces of the major retailers that once had a presence in the mall.
Other recent additions include an outpost of Goddard School, a chain of early childhood education centers. The Sloop John B restaurant opened in Regency late last year.
The off-plots of the shopping center are also undergoing a transformation. Sheetz is set to open on the site of the building that once housed Tire America by Sears.