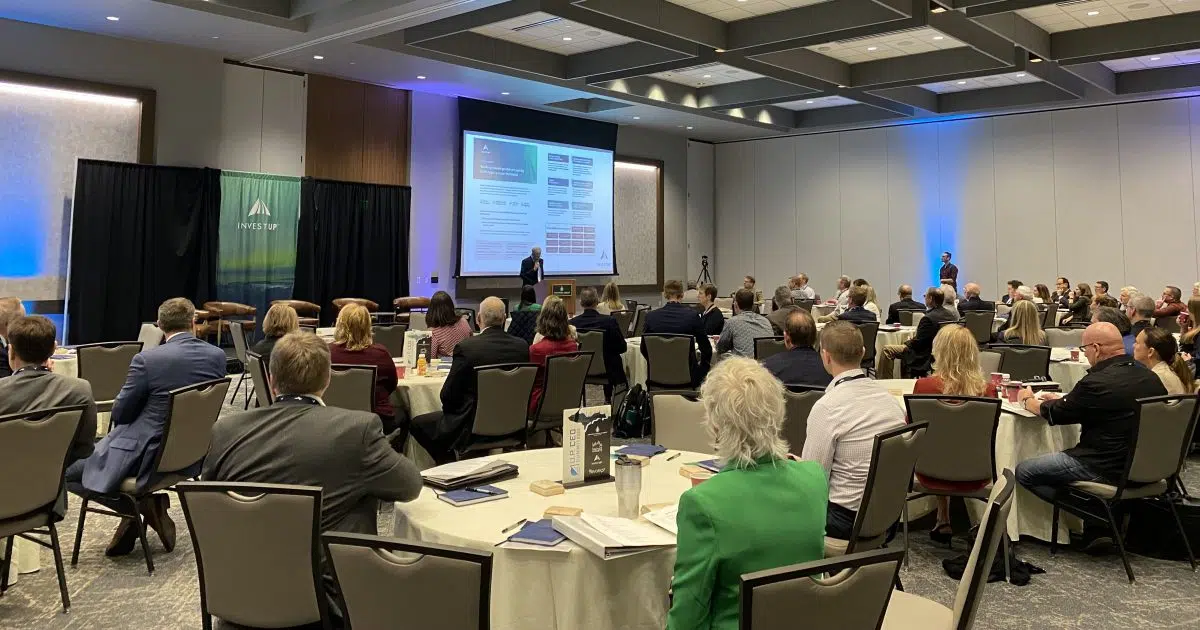 More than 100 business and community leaders from across the Upper Peninsula gathered at the UP CEO Summit in Marquette on Thursday.
The inaugural event, hosted by InvestUP, served as a venue for CEOs of the region's leading companies and university presidents to develop strategies that move the economy forward.
InvestUP Vice President Karyn Olsson, CEO of Marketing Department Inc., touted the event as an opportunity to discuss the region's biggest opportunities and celebrate its strengths.
"We all do business at unique times. From relocation to remote working, UP companies are facing new challenges and opportunities. With great talent, world-class universities, abundant natural resources, and world-class recreation, the region has advantages for growth and relocation. More than ever, InvestUP is focusing on specific strategic opportunities to maximize our region's return on investment.
To begin, InvestUP CEO Marty Fittante outlined the focus of the event, framing the challenges facing UP – population loss and lack of infrastructure needed to increase population – and noted the need to increase the number of dwellings in the UP. Fittante challenged the state. to better align its programming opportunities with the needs of the region, saying "one size doesn't fit all" and that "UP, while primed for growth, needs policy makers to recognize that the Upper Peninsula has unique challenges that need the right size and the right policies to address.
Following Fittante's opening remarks, summit attendees received socio-economic insights through the first-of-its-kind UP Business and Resident Perspectives Survey, conducted by Richard Czuba, CEO of Glengariff Group, a national full-service research and survey. . Highlights from the survey of UP residents, November 2021 and April 2022, include:
• More than half of business owners expect their performance to be better next year, and 40.5% expect to grow their business
• Specific opportunities for economic growth, including:
• Attraction of companies and talents
• Increase in the number of dwellings
• Improvements to key infrastructure
• Workforce training
• Increase in childcare services
• Expansion of high-speed broadband Internet
• Nearly half of survey respondents know someone who is interested in moving to UP
Guest speaker Teri List, Independent Director of Microsoft Corporation's Board of Directors, offered strong endorsement of the summit's goal, which was to bring UP leaders together to address UP's challenges, by the via virtual remarks. She encouraged business leaders to come together to create solutions that make the region a better place to live and work. A graduate of Northern Michigan University, Terri was previously executive vice president and chief financial officer of Gap, Inc.
Presenter Matt Johnson, Director of Outreach at Eagle Mine, discussed "The Economic Impact and Opportunities of Outdoor Recreation and Local Trail Networks," which focused on stimulating the leisure economy outdoors through community natural resource facilities, such as a network of trails. He urged private sector companies to use their resources and influence to improve their communities and challenged them to seek innovative ways to improve outdoor recreation.
Dr. Richelle Winkler, professor of sociology and demography, and researcher Julia Petersen, both of Michigan Technological University, spoke on "the impact of the pandemic on immigration." They noted that the pandemic has slowed net migration, with immigration declining at a slower rate than emigration. They recommended that communities focus on retaining young adult residents, marketing and recruitment in places where migration flows are established, and developing local natural amenities as part of their overall economic and community growth strategies.
Meeting participants also participated in three panel discussions on attracting talent, collaboration between the private sector and higher education, and the role of internships in economic and community development. Some potential strategies identified during the roundtables include:
• Adopt remote work as a fundamental opportunity for economic development. During the pandemic, UP has seen an influx of remote workers who have bought homes and contributed to their communities.
• Alignment of private sector, higher and local education on mentorship programs, career services, internship programs and branding of UP as a higher education destination.
• Improve the internship market by preparing students and positioning internships as a place to discover their strengths and areas for improvement.
• Implement internship programs that match students with more experienced employees who are planning to retire.
InvestUP Board Member and former Veridea Group Chairman and CEO Robert Mahaney delivered closing remarks encouraging business leaders to engage, speak with one voice and use their talents and ideas to develop strategies that will advance the prosperity of the UP. .
He said: "Bringing together business and higher education leaders in this setting provides a unique opportunity for frank and concrete strategic discussions around the challenges of our region. The goal of InvestUP and the Board of Directors is to use the contributions of the region's leading thinkers to strengthen our strategic plan and have a significant positive impact on the economic and community development issues facing the Upper Peninsula. and businesses that inhabit the UP. ."