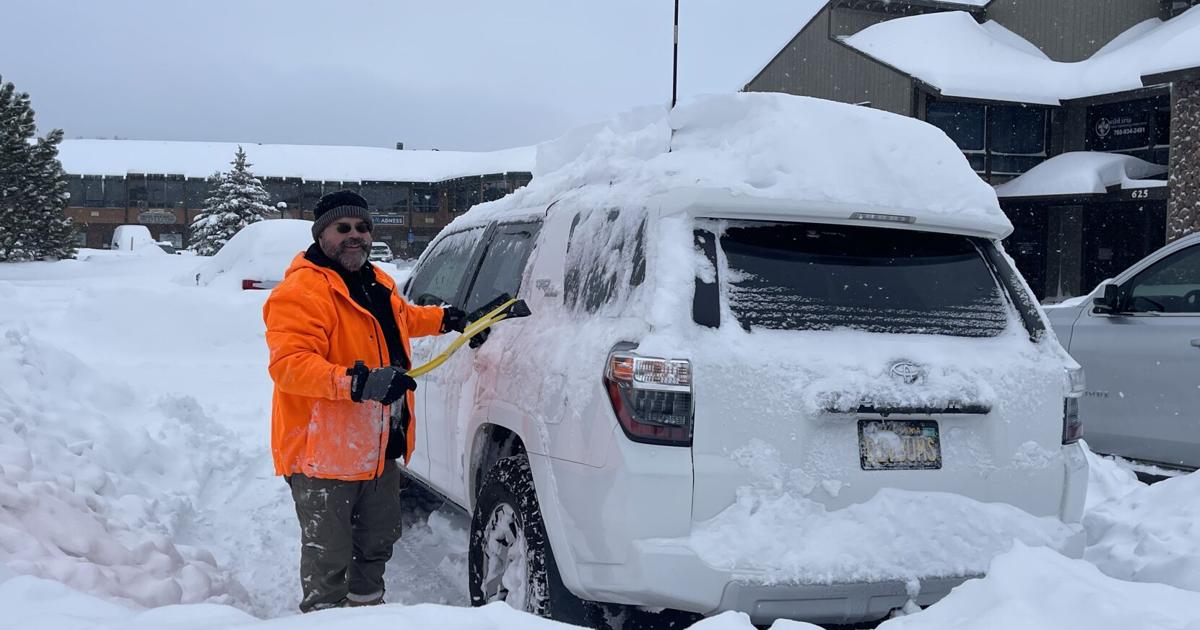 Some useful tips and information on boating in the Mammoth region during the holiday season
Christmas tree sale at Sierra Nevada Resort
Mammoth Boosters is selling Christmas trees (tabletop up to 9 ½ feet) in the parking lot at Sierra Nevada Resort and Spa until December 24th. All proceeds will be donated to Mammoth High School. Hours: Monday to Friday: 3 p.m. to 7 p.m. and Saturday and Sunday: 11 a.m. to 7 p.m.
Advanced Airlines launches service to Mammoth Lakes
Advanced Air's first charter flight touched down at Mammoth-Yosemite Airport (MMH) on Wednesday, November 24. Thank you Woolly for helping to land the plane and welcoming the many departing passengers. Advanced Airlines will fly 30-passenger Dornier 328s from Burbank (BUR), Carlsbad (CLD) and Hawthorne (HHR) in Southern California directly to MMH. Travelers will enjoy the convenience of a private air travel experience at the price of a commercial airline with perks such as private terminals and the absence of TSA. Visit https://www.advancedairlines.com/flights-to-mammoth for flight information and reservations for Mammoth Lakes.
No parking on Mammoth Roads from November 1 to April 30 – that means now!
Mammoth Lakes receives some of the heaviest snowfall in California. City snow removal operators work diligently to ensure safe driving conditions for our residents and visitors. Our snow removal operators work 24 hours a day in 12 hour shifts that can span several weeks. Priorities are set to determine which streets need to be cleaned first in order to maintain emergency access and safe driving conditions throughout the city. It is a violation of the Town of Mammoth Lakes municipal code to park on any road from November 1 to April 30. Call 800-427-ROAD for current chain control restrictions or road conditions, listen to KMMT 106.5 or Sierra Wave 92.5, or look for chain control signs throughout town. Overnight parking in parking lots maintained by the City is not authorized.
All the Sierra passes are now closed; stay tuned as the stormy weather continues
Wildcare Eastern Sierra Offers Free Outdoor Vacation Programs For Kids
Wildcare Eastern Sierra offers free outdoor education programs throughout the holiday season and into the New Year. Held in their central courtyard in Keoughs, groups of 10 or less, children and adults alike, will meet Spirit and Bullitt (Red-tailed Hawks), Razzle the Raven and others while learning "What is Rehabilitation of wildlife ? Meet staff and volunteers and explore displays of nests, eggs, seashells, antlers and more. Free documents are available. Families, friends, groups, clubs are invited. Call Wildcare at 760-872-1487 to reserve a date.
Most recreational facilities in "winter operations": here's what you need to know
Mammoth Zone: Open roads: Mammoth Scenic Loop. Closed roads: motorway. 203 at Mammoth Mountain Inn, Old Mammoth Road. at Lake Basin Rd., Lakes Basin Rd., Tioga Pass (Hwy 120 W) at Yosemite National Park Entrance, Saddlebag Rd. Visitor Centers: The Lee Vining Mono Basin Scenic Area Visitor Center is closed for the season. The Devils Postpile Ranger station is closed for the season. The Mammoth Mountain Visitor Center operates the Mammoth Lakes Visitor Center Bookstore, Thursday through Sunday, 8:30 am to 4:30 pm The Ancient Bristlecone Pine Forest Visitor Center is closed for the season. Bishop sector: Road closed: Rock Creek after the packing station, South Lake Road. past Parchers, Horseshoe Meadow at the lower gate. Open Roads: Onion Valley (unmaintained in winter, travel at your own risk), Whitney Portal Rd. (Unmaintained in winter, travel at your own risk), Foothill Road, Division Creek. Visitor Center Status: Eastern Sierra Visitor Center in Lone Pine: Open daily, 8:00 a.m. to 4:30 p.m. ESIA will operate the bookstore daily, 8:00 a.m. to 4:30 p.m. Closed on holidays.