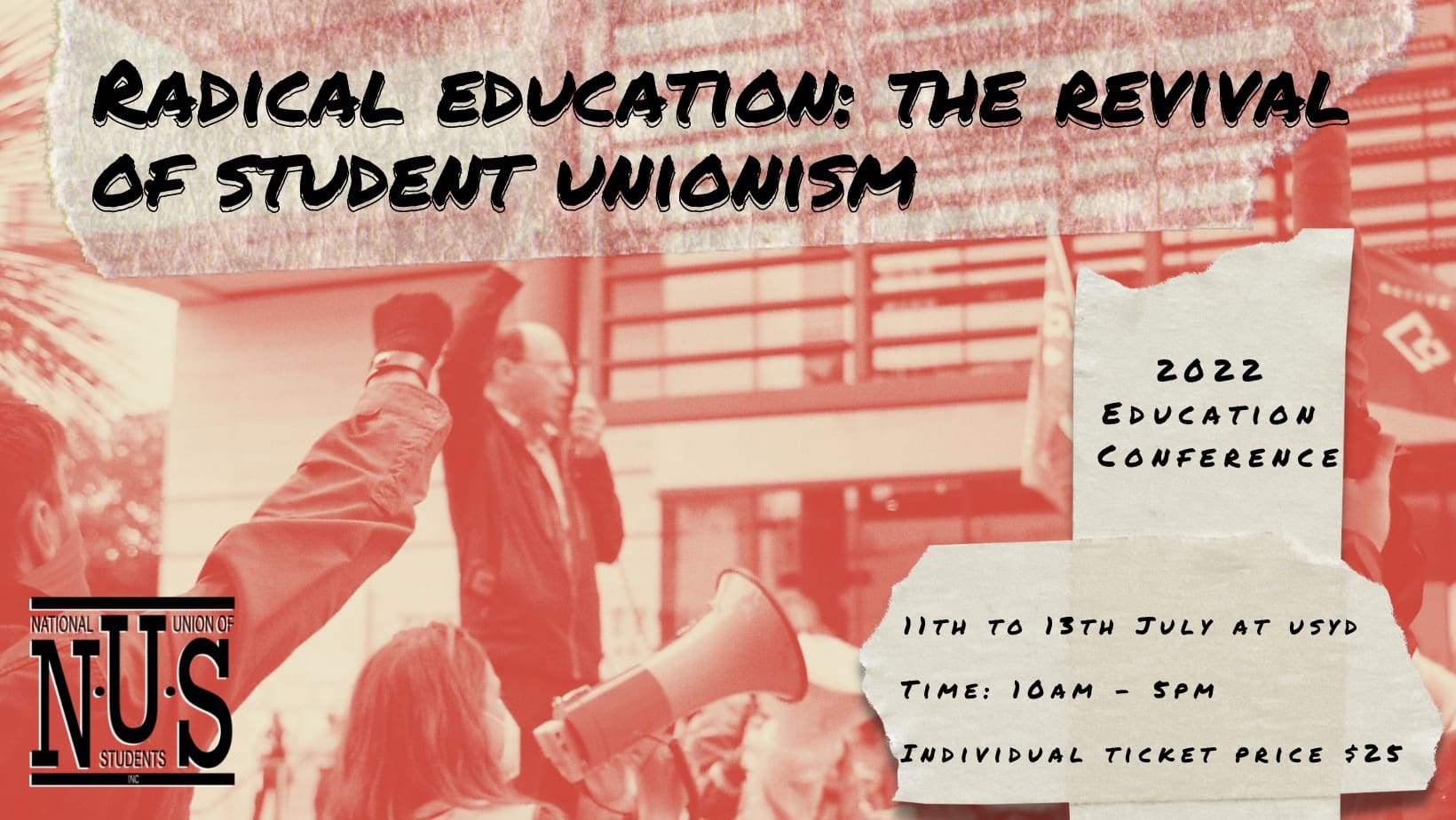 I was back in the Merewether building for the first time since the first year of economics, and, if you can believe it, this time was even more damned. That's because I was attending the National Union of Students (NUS) Education Conference (EdCon) and the archaic wooden benches in the amphitheater were already shaking with the strong discussions come.
EdCon is the annual cousin of the NUS National Conference (NatCon), where student representatives from across the country gather to discuss NUS's approach to education. This year it is organized by the USyd SRC and claims to focus on reviving student unionism.
"Universities can be places of liberation, they can be a hub of creativity, imagination, critical thinking and community," the conference program promises. They can also, as I am about to witness, be sites of petty factionalism and grim myopia.
Inauspiciously, a number of EdCon-themed Twitter accounts — like "EdCon Mask Rating" and "Capitalist Alternative" — were already tweeting by the time I checked at 10 a.m. Student Politicians Nationwide not content to confine their buffoonery and bad faith to the bodily realm.
I attended five workshops and plenary sessions during the day, so here's what your Boneheaded BNOCs (BBNOCs) did.
Salt, sobs and strategy
There is one thing that your student representatives seem to agree on, regardless of their ideology: we need a strategy.
Unfortunately, the consensus pretty much ends there.
The morning plenary session on the future of student unionism saw epithets flying between factions as they debated the way forward for the Union.
Socialist Alternative — publisher of this rag's biggest competitor, Red flag – argued for the path of greatest resistance, so to speak, suggesting that the NUS could only be weakened by associating with university principals and lobbying federal politicians.
ANU SAlt chair Grace Hill suggested the Union had 'absented' itself from the struggle for students by being insufficiently confrontational towards Labor politicians – unsurprisingly given that the large majority of the NUS national executive belongs to Young Labour.
"Labour has signaled which side they are really on in this fight… they are on the employers' side," Hill insisted, receiving heckling from the Labor-dominated audience.
The SAlt speakers took square aim at attempts by Labor politicians (student and federal) to broker deals between university management, staff and students.
"The key thing we're arguing here is that Labor has been among the main architects of the neoliberal united," said USyd's Maddie Clark (SAlt), suggesting that negotiating deals or deals student partnership was doomed to failure due to the inherently misaligned interests of students and university management.
The base was broadly inclined to agree, with several speakers questioning the value of the university leadership's promises.
"Supporting university management and the government when they cut education is selling students," said Lia Perkins, head of education at USyd.
"These are obtuse documents that they then use to try to unite interests that are fundamentally opposed to each other along class lines," RSC President Lauren Lancaster said in reference to student partnership agreements.
Despite this, the two factions still found time to exchange insults, with SAlt claiming that "the biggest difference between the factions in this room is SAlt versus Grindies". Various speakers traded accusations that their opponents were claiming influence from activism they had not done, while speakers from SAlt Grace Hill and Shovan Bhattarai (UNSW) used their speech on how to revive student unionism to emphasize the value of a NUS education aligned with SAlt Officer.
Meanwhile, NLS (Labour Left) argued that "we can do both", saying the NUS should balance activism and lobbying.
UMSU President Sophie Nguyen argued that while Labor lobbying might not be achieving massive gains for students, it was better than nothing: "Let's be honest, they [the Albanese Government] probably won't fucking repeal [the Job-ready Graduates Package]but let's be clear, having the small changes allows us to fucking engage students.
NLS and SAlt fought one of their weirdest strategic matchups over two-minute noodles. Salt seized on a national noodle-eating event in 2010 – ostensibly an anti-poverty action and failed Guinness World Record bid – as an example of the powerlessness of Labor Union governance.
"It is shameful !" shouted an NLS observer. Noodles ? Failure to win a world record? The current vacuum of political action on student hunger? Who can say.
Unity's (Labour Right) vision remained decidedly unambitious, emphasizing direct service delivery rather than broader campaigns.
Guleid Abdullahi of Deakin Uni argued that "VCs are not enemies, although they are assholes" and suggested that "we need to achieve something tangible" before aiming for higher (and presumably illusory) goals. ) as free education.
In a workshop on student welfare (read: service delivery), Unity student representatives argued that the "jurisdiction" of student unions only extends to the provision of a immediate student support through things like pantries.
It is the task of a student union to do "literally everything it [students] really want, instead of things like protesting," said a Unity student.
Just five minutes later, however, Unity was once again pushing the "we can do both" line, saying they never said activism couldn't co-exist with service delivery. I could have been wrong.
Moreover, despite emphasizing the "intersectionality of welfare," Unity members declined to explain why movements aimed at addressing issues such as broader youth poverty were not not the business of student unions. "We are a student union, we talk about student welfare, do I really need to say more," one commenter said.
Perhaps the most telling moment of the session saw a Labor delegate asked if he thought students could bring about political change through activism.
"Are you really that defeatist? asked exasperated local graduate Oscar Chaffey (LEP).
"Yes," shrugged the delegate.
Emblematically, a student from the NLS told the plenary: "We all recognize that there is a problem with the NUS, but I have not heard a single faction give a solution to the problem."
But when asked what NLS's solution would be, the answer fell short: "It's not about what NLS is gonna do."
It seems that one thing the NUS never has to fear is a solution in search of a problem.
"When I see an empty campus, I feel like crap…" — Online learning and accessibility.
Another key area of ​​contention was the extent to which online learning benefits students, with Unity members arguing that successful online services help include international and rural students in higher education.
Jonathon De La Pena, NUS Regional Petty Officer, argued that students shouldn't have to travel four hours to get training, saying: 'What we can do is normalize and champion this kind of ways. [online learning]."
Abdullahi spoke about his experience as an international student, telling the session that international students stuck in their home country deserve better support: "the mental strain that [COVID-19] had on students…means that these students cannot pass their online exams properly.
In response, SAlt speakers argued that e-learning had brought a "huge boon to university management" by enabling them to increase their profits.
SAlt member Peter, an international student from China, argued that "the major problem is that management is using e-learning as an excuse to diminish the quality of education…the role of student unions should not not just to improve online accessibility".
This produced a lengthy exchange of shouting between USyd Stephenson's Eddie "no relation" and Abdullahi, the latter unleashing a flood of interjections: "PLEASE EDDIE…EDDIE RELAX…EDDIE EDDIE PLEASE…YOU KILL ME.
Additionally, Abdullahi told SAlt that distance and lockdowns aren't the only deterrents for students visiting campus in person: "Students don't feel safe on campus, mainly because of people like you, who sell them. Red flags and give them panic attacks.
The NUS and the Heart Uluru Statement
The first session of the day was much more thoughtful, with panelists discussing the Uluru Declaration and the broader strategy that activists should adopt with regards to First Nations rights.
Gomeroi's wife, Gwenda Stanley, explained that any legal proceedings should "be on our terms, our conditions" rather than imposed by colonial governments. "Ask us what we want," she added.
"Let's abandon the old constitution and create a new one for multicultural Australia."
Wiradjuri, Yuin and Gadigal's wife, Nadeena Dixon, told attendees that "a lot of our communities don't support the Uluru declaration at all."
She questioned the success of treaties abroad, adding that "…this whole country has been built upon the law of the zero ground…we have to start with something new.
Lizzie Jarrett, wife of Bundjalung Gumbaynggirr Dunghutti, also contributed, saying the decolonization process must include the whole indigenous community: "When we have guardians, there is no chance of bridging the gap. »
"To move forward, we have to go to Blak," she concluded.
Don't worry, there are still two days left:
Luckily for you (less fortunately for me), we'll be back, with gems like "How to beat scabs 101" and "a full plea" awaiting us tomorrow.
Stay tuned!