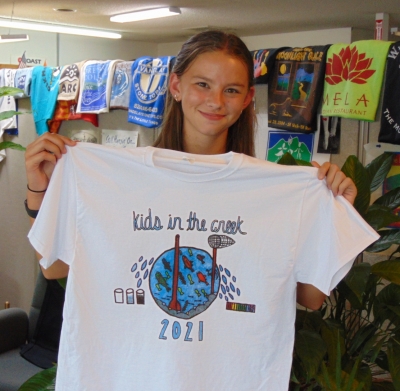 Kate Clark, a Waynesville Middle School student, is the winner of this year's Haywood Waterways Association Kids in the Creek t-shirt design contest, finding success on her first try by entering a art.
"I'm not really an artist," she says. "After thinking about it, the design came to me."
Clark's artwork will be printed on 700 shirts for Kids in the Creek attendees this spring. She also received a Visa gift card from HomeTrust Bank and a private tour from Rikki Tikki Tees Screen Printing and Design Shop for a hands-on demonstration of the printing process.
The first and second finalists, Migali Michua and Gracie Rinker, also from Waynesville Middle School, received gift certificates for Jack the Dipper Ice Cream.
This spring will mark the 24th year of Kids in the Creek, Haywood Waterways' premier water quality educational event for all eighth grade students in Haywood County. The program provides students with hands-on outdoor experience that coincides with the science curriculum, with local experts teaching them watershed ecology, water chemistry, and aquatic fauna. The program shows how waterways are polluted and what students can do to protect them.
"We really want the students to see what lives in the water," said Christine O'Brien, coordinator of Kids in the Creek. "We find that many students have not had this experience. It's also nice to have a program that enhances learning in the classroom.
Kids in the Creek is co-sponsored by Haywood County Schools with funding from the Pigeon River Fund of the Community Foundation of Western North Carolina, Tennessee Valley Authority, and profits from the annual Plunge fundraiser of Haywood Waterways. For more information, to become a volunteer, or to make a donation, contact Eric Romaniszyn at This e-mail address is protected from spam. You need JavaScript enabled to view it. or 828.476.4667.