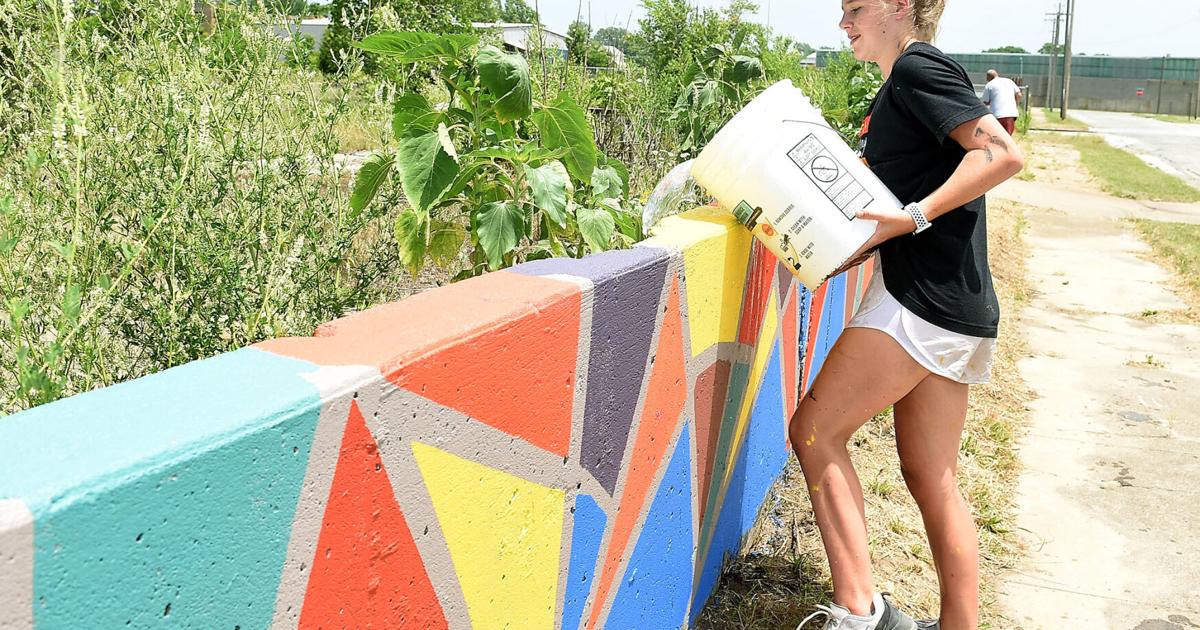 VBrain games, bags of chips and general summer laziness were the last things on the minds of a handful of local students recently as they volunteered for the good of their community. .
Collectively, the seven students of the Youth Volunteer Corps of Joplin – ages 11 to 18 – spent nearly 25 hours at Joplin's Empire Market, devoting the majority of their time to the community garden out back.
"Yeah, I'm bored at home sitting all day," said 15-year-old Joplin High School student Noah Hernandez, who was busy watering a wide assortment of budding plants all over the yard. Volunteering, he said, "is a way for me to come here and help this place and our community, while staying active and having fun."
It wasn't even 10 a.m. and already Hernandez was sweating, the sun in the cloudless sky above beating down on him and his fellow volunteers.
"I'm used to the heat," he said with a shrug. "It's not hot for me."
Hernandez said he enjoyed spending time outdoors, even during last week's heat wave: "Most of my family loves nature; we walk a lot, we go to the river. My father is a naturalist.
He also likes to learn new things. Earlier that morning, Hernandez had learned from University of Missouri senior gardening program volunteer Eric Osen how to properly water plants and flowers, extending water to specific areas so liquid can reach roots buried in the ground. Earlier in the week, Hernandez learned to cut metal and drive a tractor, a new experience for him.
Volunteering "will help me get a better college, a better resume, and it will help me a little bit in life, not just right now," Hernandez said. "It's a good feeling."
Osen, who volunteers full-time at Empire Market, admitted he kept the young men and women busy throughout the week. They were building by hand – by carefully measuring and drilling – a vertical, wheelchair-accessible arbor to provide shade and allow people to pick fruit directly from the overhanging vines. Earlier in the week, students repaired a wheelbarrow, painted metal railings overlooking Fourth Street, embellished an eyesore with a stone wall, cut metal and painted butterfly decorations, and planted and watered a crop peppers.
"It's so great for them," Osen said. "They're out in the wild, and it's just a really cool time to be in a garden. It is a lifelong learning. They learn stuff. Right now, we're just planting the seeds. One day, (they) will bloom.
"I think people are surprised at how hard these young people work and how much they do in a day," said Sandy Anker, program director. "They are so determined."
Sara Thompson, the corps' team leader, said it was the first of several planned summer projects at local nonprofits that could still use some extra help from volunteers. The Corps, a youth service program, is part of an international network dedicated to creating volunteer opportunities to meet community needs and inspire young people to a lifelong commitment to service, Thompson said.
Project locations on the docket this summer include Wildcat Glades, where students will paint, build flower beds and beautify walking paths, and the Joplin Humane Society, where they will ease animal anxiety and walk dogs on the trail. neighbour. Next stops include the Joplin Senior Center, where students will be handing out food, and Watered Gardens.
The students "are very hard workers," Thompson said.
"It's good to give back," said Zachary Woods, a 12-year-old volunteer, a drill in one hand and a tape measure in the other.
During their week at Empire Market, Thompson hoped the students would learn "safe construction management through the use of tools, how to build things, how to work a screwdriver and a drill. We also hope they learn team building skills and have to work (alongside) different people they may know nothing about.
It's about "creating future leaders," Thompson said.