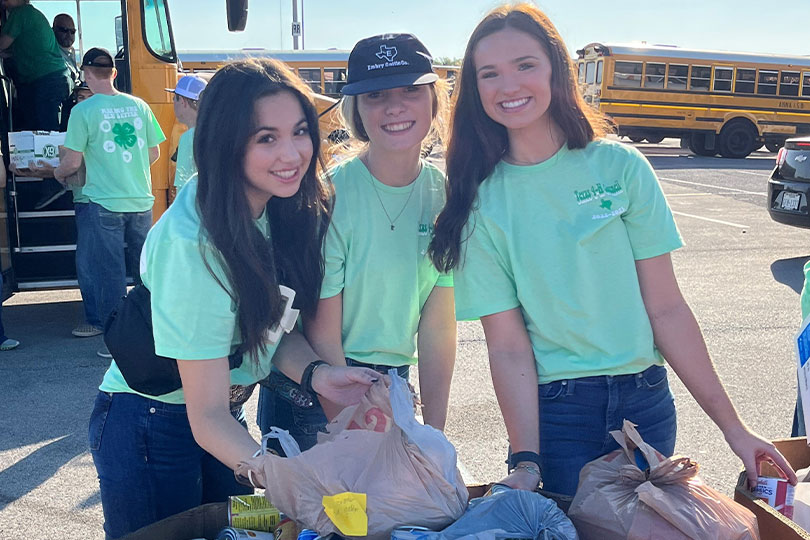 By Julie Tomascik
Editor
Young leaders from Texas FFA, Texas 4-H and Texas FCCLA participated in service activities, trainings and more to promote agriculture awareness at the State Fair of Texas this week.
"We're at the State Fair to raise awareness about agriculture," said Caroline Welker, Texas FCCLA senior vice president. "It's a great opportunity as a senior in high school. It's been a great experience participating in the service projects, social media training, and other activities this week."
Student leaders helped pack boxes of hygiene products and items for the North Texas Food Bank.
They also participated in an advocacy training session hosted by the Texas Farm Bureau on how to share agricultural messages on Instagram and TikTok.
"It's important for young people to get involved in youth organizations like these because they teach you about farming and give you the opportunity to network with peers and industry professionals," said Campbell Offield , vice president of the Texas FFA Area One State.
During Agriculture Awareness Day, held October 12, students from the state's FFA, 4-H, and FCCLA participated in a canned food drive. Together they collected over 30,000 pounds of food.
The students then embarked on an educational scavenger hunt across the fairgrounds, and the event ended with a special agricultural message and recognition from the three youth organizations.
"This week at the State Fair, we worked with other teams of FCCLA and FFA officers to build these connections between the three organizations because they are so fundamental to agriculture in our state," Wes Shaw, Texas 4-H Council member, said. "Being involved in these youth organizations creates connections that can be beneficial later in life."
The State Fair of Texas runs until October 23.
The Texas Farm Bureau's Doorways to Agriculture exhibit will be on display during the remainder of the fair.